Intra Ocular Lens
For those patients who do not qualify as LASIK candidates, another solution for vision improvement exists in the form of an IOL (intraocular lens) implant. The many possible reasons for this include extreme refractive error or the presence of conditions and concerns such as glaucoma, infection, severe dry eye or cataracts.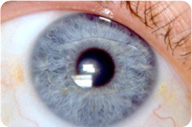 For these patients, a viable alternative to vision correction by means of an Excimer laser is the surgical implantation of an Intra Ocular Lens (IOL) in the eye to improve vision and reduce dependency on glasses or contact lenses. An IOL is simply a miniature lens inserted into the eye to correct refraction error. The IOL can be additionally implanted while concurrently retaining the natural lens (a so-called phakic IOL) or it can replace the natural lens entirely.
Materials used to make IOLs are highly sophisticated, and our preference is to use the modern, flexible kind. When using phakic lenses, both anterior and posterior lenses are implanted. When replacing the natural lens, apart from the classical design, others that can be used are yellow («naturale»), aspherical and multifocal intra ocular lenses.
Inevitably, some patients may prove to be candidates for both a laser procedure and intra ocular lens implantation. In this case, our highly experienced surgical team will decide on the best option at the time of consultation.