Our mission
LaserFocus is the newest and most sophisticated center for refractive surgery in the region, offering patients a unique approach, a palpable sense of security and confidence. We afford access to the latest cutting-edge technology in refractive surgery and ophthalmology in existence today. Incorporated with that is our team of experts acclaimed throughout the region and the world.
JOne of our core competencies is, without a doubt, the personal and individualised relationship we develop with our patients from the moment they enter our door, through various check-ups and preparatory procedures, the operation itself and the post-operative period. Our surgery team is available 24 hours a day at any time to deal with any queries, misgivings or problems that might occur. We are always ready to give you our full attention and help you make a well-informed choice on how best to care for your eyes.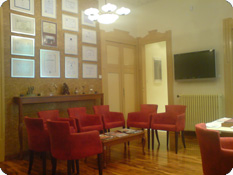 Modern technological advances are progressively helping to correct a majority of eyesight anomalies with the help of highly sophisticated, yet concurrently simple, laser-guided operative procedures. LaserFocus is in step with the latest scientific and hi-tech trends, and is equipped with the most modern tools and machinery aimed at enabling maximum precision and speed of recovery, with special attention focused on the safety and effectiveness of the entire procedure.